Explained in 12 charts: 2022 assembly election results | India News – Times of India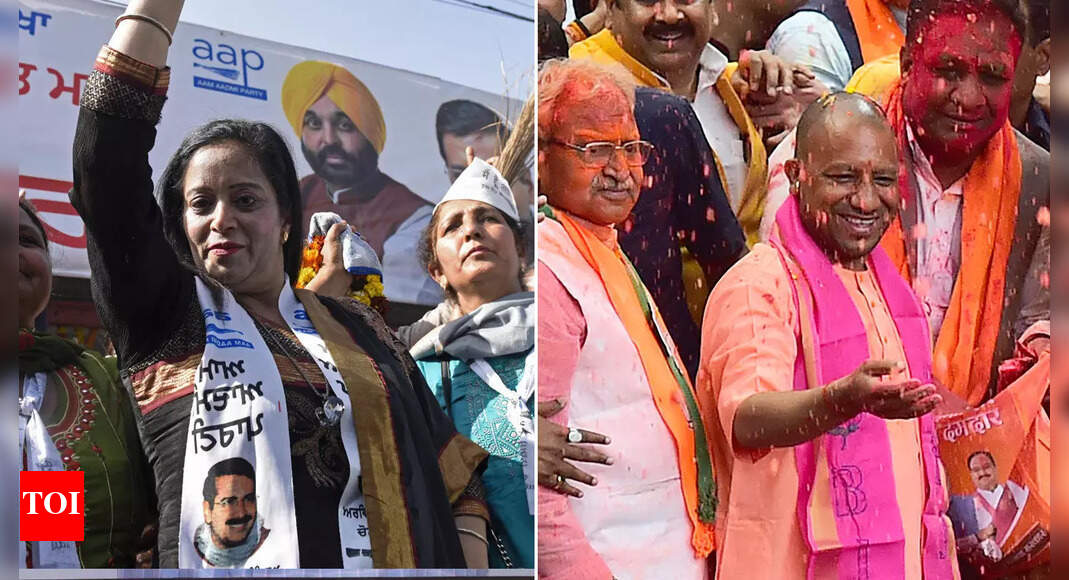 NEW DELHI: The results are out and states have given a clear verdict. The BJP has scored a solid 4-0, securing victories in Uttar Pradesh, Uttarakhand, Manipur and Goa. In Punjab, the Aam Aadmi Party has swept its broom, clearing aside the Congress and a host of other parties – emerging as a buoyant winner in what was supposed to be a multi-cornered contest.
The results were pretty much along the expected lines if we go by what the exit polls had predicted.
But like in every election, there are stories in numbers and the more you dive deep, the more you make sense of the verdict. This election was no different.
Here are 10 charts that define the 2022 assembly
election results
…
India's political landscape
The colour of India's ever-evolving political landscape did not change much after the elections, except in Punjab which has switched from Congress's blue to AAP's blue.
With Punjab in its kitty, the AAP is in power in two states. Notably, even the Congress has governments in two states, where it is in power on its own.
The BJP continues to retain the dominant share of India's electoral map, with governments in as many as 12 states.
Overall, the saffron party controls almost 42% of India's geographical area.
Besides Congress and AAP, no other party in India has governments in multiple states.
'AAP da' Punjab
The highlight of today's election is certainly the result in Punjab, which not only comes as a shot in the arm for AAP but also has far-reaching impact on Indian politics.
The AAP completely decimated its opponents across the state, settling at 92 out of 117 seats. The Congress came a distant second at 18.
It was pretty much a Congress vs AAP contest in the state this year, where the Arvind Kejriwal-led party managed to gain a whopping 74 seats and Congress lost 66 constituencies.
Such was the dominance of AAP that even in a high-profile contest between Congress's Navjot Singh Sidhu and SAD's Bikram Singh Majithia in Amritsar East, it was AAP's little known Jeevan Jyot Kaur who ended up winning.
With a government in another state – and a full-fledged one at that – AAP is sure to sharpen its national vision in the coming year.
BJP holds fort, with fewer soldiers
The BJP managed to stay in power in all the four states where it had governments – UP, Uttarakhand, Goa and Manipur.
However, overall, the saffron party won fewer seats in the five states where elections were held in 2022 compared to 2017.
The party had 406 MLAs from these states in 2017, compared to 357 in 2022. The biggest erosion of legislators is in UP, where the BJP won 57 fewer seats than last time.
Overall, it lost 82 seats where it was in power but also wrested 23 from other parties.
Why it matters? The crucial presidential elections are slated for later this year and the votes of each legislator helps the party's candidate secure the country's highest post.
As things stand though, the BJP should be able to comfortably elect the President of its choice later this year.
Historic mandate
In both Uttar Pradesh and Uttarakhand, the BJP won a historic mandate in this year's election.
How?
In UP, Yogi Adityanath will become the first chief minister in over 37 years to be re-elected by the state. The chief minister has also managed to break the Noida jinx – a popular theory that chief ministers who visit the city end up losing the subsequent elections.
Since its formation 21 years ago, this will be the first that Uttarakhand would have re-elected a government. Power usually alters between BJP and Congress in the hill state.
Notably, the BJP managed this feat despite changing its chief minister not once but twice.
Punjab's heavyweights succumb One of the most notable outcome of today's election was the failure of some of the biggest names in Punjab to win their respective constituencies.
Former chief ministers Parkash Singh Badal, Amarinder Singh, incumbent chief minister Charanjit Singh Channi, former deputy chief minister Sukhbir Singh Badal and state Congress chief Navjot Singh Sidhu and the powerful Bikram Majithia, all the big names in Punjab found themselves on the losing side.
This shows how one-sided the verdict in Punjab really was.
In fact, Parkash Singh Badal – the grand old man of Punjab politics – couldn't retain his stronghold of Lambi, a seat from where he has won five consecutive terms.
Mayawati 5th consecutive election loss
2012, 2014, 2017, 2019 and now 2022. This is the fifth consecutive election (state & national both) where the Mayawati-led BSP failed to make a mark.
The party, which was once a major player in UP elections, has been reduced to just 5-odd seats this year with a vote share of over 12%. This is a direct depletion of over 10 percentage points compared to 2017.
In essence, Mayawati's BSP has been reduced to a party that cuts into the votes of SP candidates.
BJP surge in Goa and Manipur
In 2017, the BJP managed to form its governments in both Goa and Manipur. Both states had thrown up a fractured mandate and the BJP had won fewer seats than Congress.
But the saffron party made it possible by forming crucial post-poll alliances.
Cut to 2022, the BJP looks set to forming the government on its own in Manipur with a simple majority of 32.
In Goa, the BJP has won 20 seats, exactly half the strength of the assembly. While it's just one seat short of majority, the saffron party is already in talks with allies to form a post-poll alliance.
And unlike in 2017, BJP needs support of just one more legislator to form the government in the coastal state.
Vote gainers … and losers
The BJP may not have won as many seats in UP as it did in 2017, but it did manage to see a rise in its vote share.
In fact, the saffron party managed to increase its vote share in the three other states of Goa, Manipur and Punjab as well. It was only in Uttarakhand where BJP saw a depletion in its vote share.
But again, the man of the match was certainly AAP, which saw the biggest increase in its vote share. Compared to 2017, the Kejriwal-led party added a massive 18% percentage points to its vote share in Punjab.
On the other hand, BSP saw a major erosion in its vote share, winning just 12.8% of the total votes compared to 22.2% in 2022. Overall, the party lost all but one seat in 2022.