Yogi calls on PM Modi, Shah, Rajnath to discuss UP cabinet | India News – Times of India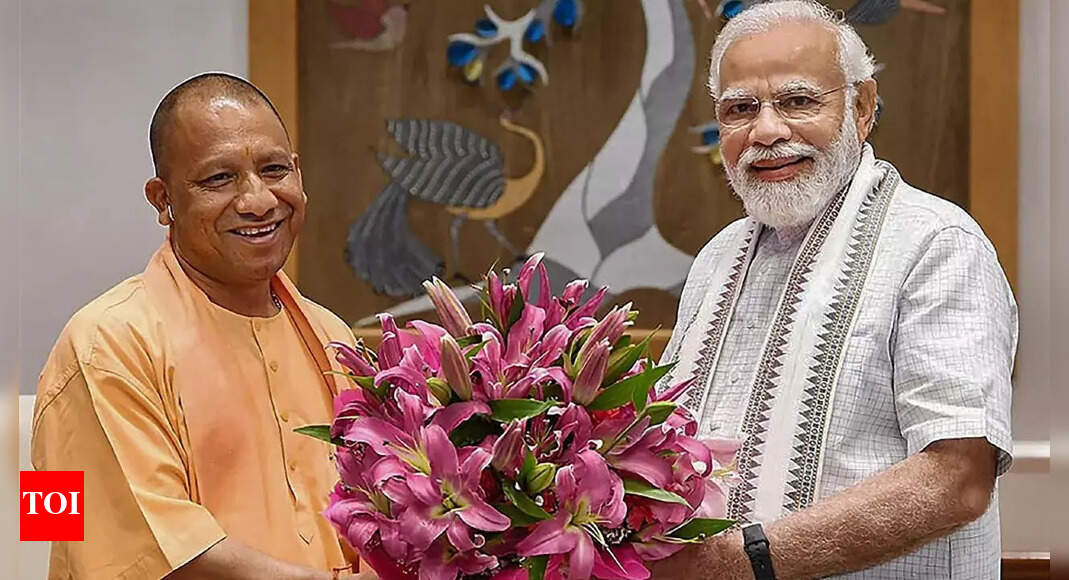 Poised for a second term after completing full five years in office,
Yogi Adityanath
's leadership on Sunday received a reassertion of endorsement from PM
Narendra Modi
. UP under the CM-designate will attain "greater heights of development" in the years to come, the PM said.
"Met Yogi Adityanath Ji and congratulated him on the historic victory in the
UP elections
. In the last five years, he has worked tirelessly to fulfil the aspirations of the people," Modi tweeted after meeting Yogi for 90 minutes in New Delhi.
आज @myogiadityanath जी से भेंट हुई। उन्हें उत्तर प्रदेश चुनाव में मिली ऐतिहासिक जीत की बधाई दी। बीते 5 वर्षों में उ… https://t.co/Ps7anJLiww

— Narendra Modi (@narendramodi) 1647177245000
Their huddle followed by Yogi's series of meetings with Union home minister Amit Shah, defence minister Rajnath Singh and BJP president JP Nadda are significant in view of the government formation in the state.
According to sources, Yogi had detailed discussions with the BJP brass on induction of key members in his new ministry, appointment of one or two more deputy CMs to accommodate key saffron functionaries and the fate of deputy CM Keshav Maurya, a prominent OBC face of the party who faced a shock defeat in Sirathu.
The names of UP BJP chief Swatantra Dev Singh, Uttarakhand former governor Baby Rani Maurya and ex-law minister Brijesh Pathak have been doing the rounds, in case the number of deputy CMs are increased.
After meeting PM Modi, Yogi tweeted, "Had a warm meeting with PM Narendra Modi ji, the world's most popular politician, the architect of 'self-reliant India' and the dreamer of 'Ek Bharat-Shreshtha Bharat'. Heartfelt thanks to the PM for providing time and soulful guidance from his hectic routine!"
विश्व के सर्वाधिक लोकप्रिय राजनेता, 'आत्मनिर्भर भारत' के शिल्पकार, 'एक भारत-श्रेष्ठ भारत' के स्वप्नदृष्टा आदरणीय… https://t.co/wkpsOerIMf

— Yogi Adityanath (@myogiadityanath) 1647178257000
Earlier, Yogi called on vice-president M Venkaiah Naidu and BJP general secretary BL Santhosh. Later in the evening, he met Amit Shah, Nadda and Rajnath Singh, the three leaders whose advice on the formation of the next government in UP will be crucial. He had dinner at Rajnath's residence.
Set to take oath as the chief minister for a second term, Yogi is likely to stay in Delhi for a couple of days and meet other party leaders to express his gratitude for helping the party win assembly polls. He is the only CM in the history of the state to take over for another stint after completing full five years in office.